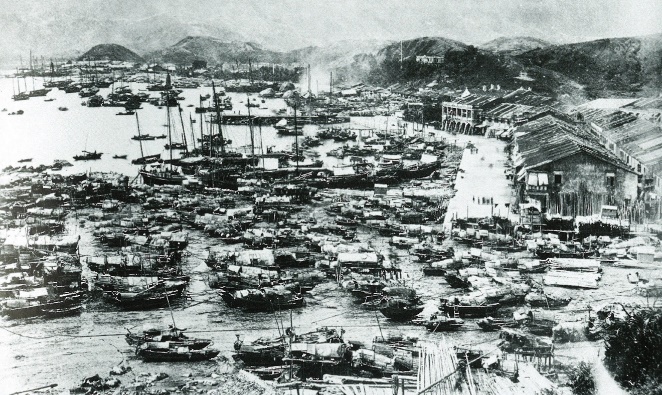 #TopOfKowloonInThePast #StationStreet #OriginOfName #HistoryOfStreets
Shanghai Street was formerly known as Station Street, a name derived from the establishment of Yau Ma Tei Police Station at the intersection of Station Street and Public Square Street in the late 1860s. A natural harbour of strategic importance to the colonial government, Yau Ma Tei was the earliest district developed in Kowloon. Upon the completion of a major reclamation project in Yau Ma Tei in 1885 that has formed the Reclamation Street area of today, Station Street was extended, stretching from Public Square Street to Nelson Street back then. Benefiting from satisfactory land sales performance at that time, Station Street began to flourish. By the end of the 19th century, the population of Yau Ma Tei had reached around 8,000 making it the most densely populated district in Kowloon. Later on, Station Street further stretched across Tai Kok Tsui Village to Tai Po Road connecting the New Territories.

As there were duplicated street names at the time on both Hong Kong Island and the Kowloon Peninsula, in 1909 the government decided to make changes to the name of Station Street in order to avoid confusion. Similar to the adjacent Kansu Street and Peking Road which were named after Chinese provinces or cities, the street was renamed as Shanghai Street.

Due to its proximity to the sea, Shanghai Street was once a convenient shopping district for ferry passengers and boat-dwellers who arrived ashore at the Typhoon Shelter on Ferry Street and the nearby piers, and as a result the businesses there were robust. In 1926, the extension of the Mong Kok section of Shanghai Street which ran in parallel with Nathan Road towards Prince Edward was completed, making it the most bustling street on the Kowloon Peninsula.
In the 1960s and 1970s, following the relocation of the Typhoon Shelter and a gradual change in the passenger transport mode from sea to road, Shanghai Street was eventually overtaken by Nathan Road as the major trunk road on the Kowloon side.